Autocar magazine 31 January – out now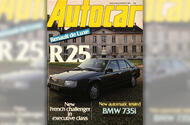 This week: Britain's best hot hatch, BMW i3 driven, Aussie V8s for £6500, Volkswagen Polo road test, Megane RS tested and much more
What's the best hot hatch ever? We've brought all the greatest together to decide, definitively, who rules the hot hatch roost.
It's hatches aplenty this week, in varying degrees of hotness, with the Volkswagen Polo fully road tested, the BMW i3 S put through its paces and the Renault Mégane RS finally put to the test. 
In news, we've got reports of super fast and super posh SUVs – the former in the form of the Range Rover Velar SVR, and the latter in the form of a Mercedes-Maybach GLS. 
Also in this issue
We've got more news, with the latest on the Mercedes-AMG GT 4 – the latest rival to the Porsche Panamera from Affalterbach, insight on why petrol cars need particulate filters too, and the possibility of an LPG comeback in the UK.
Want reviews? We've tested the Honda Civic diesel, and have a huge hot hatch shoot out, whittling down thirty to one supreme winner. 
We went behind the scenes of Ford's assembly of the GT, got the inside line on the new tech coming to everyday cars in the next few years, and had a sit down with car artist Martin Tomlinson.
Our cars
Well hello there, we've got a Honda Civic Type R on our fleet, so say hello to the newest, hottest addition to our car park. The Alfa Romeo Giulia Quadrifoglio is also proving popular in the office, while on a long trip, we get annoyed by the noise of the BMW 5 Series' indicators. And that's not necessarily a bad thing at all…
Deals
Lounge in a limo for very little loot – it's not a tongue twister, it's our latest round of bargains from used car guru James Ruppert. Also find out how to grab yourself a Vauxhall Monaro for as little as £6000. Can't be bothered to trawl through the classifieds for treasure? We've taken the hard work out of it on page 83 of the magazine. 
Where to buy
Never miss an issue – subscribe to Autocar magazine today.
Autocar magazine is available through all good newsagents. You can also buy one-off copies of Autocar magazine from Newsstand, delivered to your door the morning after.
Digital copies can be downloaded from Zinio and the Apple iTunes store.
Source: autocar
Autocar magazine 31 January – out now