UK car manufacturing drops 3% as industry faces "greatest challenge"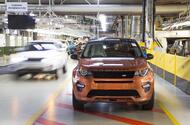 Jaguar Land Rover's factory in Halewood, Liverpool has contributed to the car maker's top position with the most British-built cars
The decrease in British-built cars is chiefly down to less demand in the UK, while warnings about the effects of Brexit continue
The UK car industry faces "the greatest challenge of our time", according to the Society of Motor Manufacturers and Traders chief executive Mike Hawes, referring to ongoing uncertainty over Brexit and the anti-diesel rhetoric in the UK.
"[Brexit] comes at a time when the global car industry faces so many challenges. Our global competitors are focusing on electric and autonomous vehicles when, in the UK, we're focusing on Brexit and air quality," said Hawes.
New car sales fall 5.7% in 2017
Figures from industry body, the Society of Motor Manufacturers and Traders (SMMT), show that 1,671,166 cars were built in the UK in 2017, down from 1,722,698 in 2016. That represents a fall of 3.0% compared to 2016 – the first decline in eight years – but still remains the second biggest year for production since the turn of the century. 
The downturn in production is largely attributed to poor domestic demand thanks to "declining business and economic confidence and confusion over government's policy on diesel", said the SMMT.
The winners and losers in 2017's UK car market
Jaguar Land Rover retains top spot
Jaguar Land Rover remains the biggest manufacturer of British-built cars for the third consecutive year, despite being down 2.3% year-on year and despite recently confirming it is cutting shifts at its Halewood plant due to concerns over Brexit and diesel demonisation. It made 532,107 vehicles last year across its Birmingham and Liverpool sites, led by the Range Rover Sport and Jaguar F-Pace. 
Nissan took the second spot, down 2.4% on 2016 with 495,206 vehicles made, led by the popular Qashqai. Mini was third biggest producer, followed by Toyota, Honda and Vauxhall. 
Honda had its most successful year, thanks to its new Civic, with production up 22.4% to 164,160 units. Worst hit was Vauxhall, whose production was down 22% to 92,164 cars. Toyota also dropped 20% to 144,077 units built.
The top ten cars sold worldwide and built in Britain were, in descending order, the Nissan Qashqai, Mini hatchback, Honda Civic, Toyota Auris, Vauxhall Astra, Nissan Juke, Range Rover Sport, Jaguar F-Pace, Range Rover Evoque and Land Rover Discovery Sport. 
Of the overall 1.67m vehicles, 1.34m were sold outside the UK. Car exports were down 1.1%, only a slight decline when compared to cars built for the UK market, which dropped 9.8%.
This reflects the decline in UK car sales, which fell 5.7% in 2017, a result also blamed on falling consumer confidence, concerns over diesel and worsening exchange rates.
Brexit concerns
Reiterating the SMMT's previous stance on Brexit, Hawes said: "The EU remains our biggest partner for exports. The EU market is getting back to pre-recession levels. We must maintain the relationship with not only Europe, but all countries. 
"Businesses need clarity, not just on the Brexit transition but also the long-term arrangements. The single market must continue, and there must be no tariffs. Anything else would undermine our competitiveness."
Hawes expects UK car production for 2018 to stay at a similar level to last year, his tone notably differen to this time last year when he described the industry as being "in rude health" and predicted that the all-time record of 1.92m British-built cars, set in 1972, would soon be beaten.
When asked today about hitting that record, Hawes commented: "it's hard to foresee us reaching that figure while we have this period of uncertainty".
JLR CEO Ralf Speth expressed caution on the firm's prospects for 2018: "The car industry is facing a number of challenges that are undoubtedly impacting consumer confidence, particularly in the UK. Jaguar Land Rover must become as lean and fit as possible so that we can continue to invest in our autonomous, connected and electrified future," he said.
Meanwhile, Honda expects to maintain 2017 levels for production this year. 
Hawes also predicted that shortly before leaving the EU, there would "likely be a pull-forward" in terms of car production, followed by a decline directly after Britain's exit. 
Ford's UK boss Andy Barratt added: "The car market involves global players. So global capital goes to safe havens: the places where you will get the greatest returns. The free trade agreement is key, plus a stable currency, stable regulations."
The SMMT also confirmed that UK automotive investment fell by 33.7% last year to £1.1bn, compared to £1.66bn in 2016. Investments in 2017 included McLaren's Sheffield facility and Toyota's Burnaston plant.
Engine production bucks trend with 6.9% rise
Despite the downturn in investment and car production, engine production bucked the trend, hitting record levels. Output was up 6.9% to more than 2.7m units in 2017, with 54.7% of these destined for overseas sale. 
More than 1m diesel and 1.7m petrol units were built last year, delivering £8.5bn to the economy and creating 8000 jobs, according to the SMMT. 
Ford UK boss Andy Barratt, added that Ford's engine plant in Dagenham had made 793,200 engines in 2017, an increase of 10,500 over 2016 "despite fragile demand and anti-diesel rhetoric". This success was largely down to its Transit van.
Read more
New car sales fall 5.7% in 2017
The winners and losers in 2017's UK car market
Touring Britain's car industry
UK car manufacturing hits 17-year high in 2016 – JLR and Nissan rank top
Source: autocar
UK car manufacturing drops 3% as industry faces "greatest challenge"